Reusable shower caps are an eco friendly alternative to disposable plastic caps. Make your reusable shower cap last longer and take all the repeat use by following our wash and dry instructions.
1- How to Wash your Shower cap
It's true. Caps can get smelly. When you put any material directly against your scalp it will absorb oil from your skin and hair. We recommend washing your shower cap every few weeks to keep it smelling fresh and clean.
Laminated cotton shower caps can go straight in the washing machine with your regular clothes. We recommend using a cool or regular machine wash (up to 30 degrees). Your usual washing machine detergent is fine. As a rule of thumb we say treat your shower cap like your favourite cotton T shirt when you wash and dry it.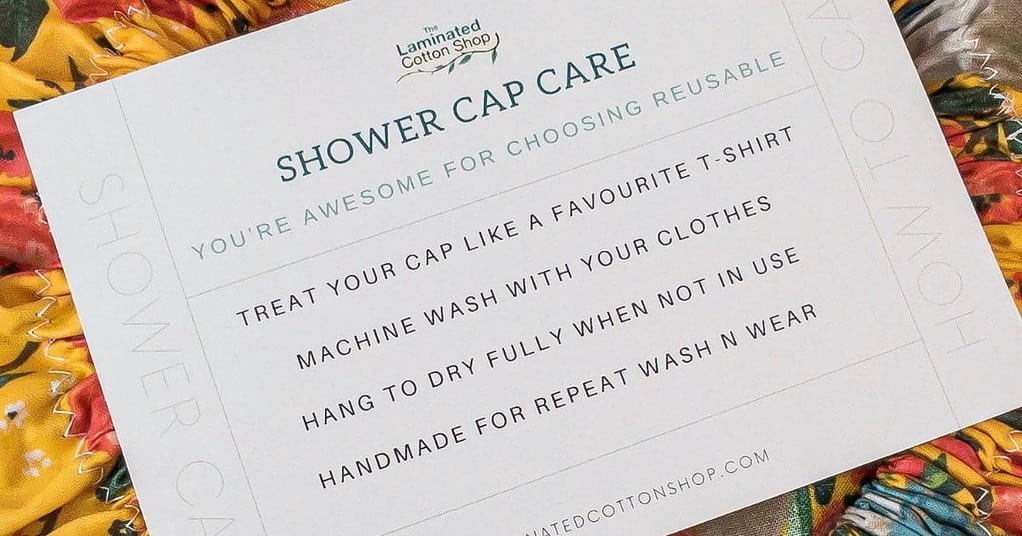 2- How to Dry your Shower cap
All shower caps need a chance to dry out when they aren't being used. Even heavy duty outdoor fabrics get a chance to dry out when the weather turns sunny. Letting your cap dry out when it's not in use will extend its life.
We recommend hanging your cap to dry outside of the shower so it is not sitting in a damp spot.
Top 3 places to dry your shower cap
-Towel Rail
-Door Handle
-Clothes Airer
And of course you can always pop your cap on the clothes line in direct sunshine.
3 – When Things go Wrong. Mistakes Can Happen
Sometimes things don't go to plan. If you leave your fabric shower cap in a damp corner and forget about it or you don't wash the cap and things get unpleasant you can fix it.
When any fabric is left wet or in a damp room and not able to dry out it will get mould on it. Same as any bath towel would. Our rule of thumb is if your bath towel can't dry in the spot where you hang your cap then your cap won't dry there either.
With most fabric shower caps you can use a regular laundry spray cleaner to get rid of stains or marks and then wash the cap (or soak it if you need) With laminated cotton shower caps we recommend making a past of bicarb soda and vinegar and rubbing that onto any stains or marks on the cap and then giving the cap a hot machine wash. Follow it up by leaving the cap on a clothes airer to dry (wherever you dry your regular washing) or hang it on the line in direct sunlight. This should fix any issues.
The best way to keep any reusable shower cap in good condition is to regularly wash it and keep it dry in between uses. Bookmark this page if you want to keep these tips handy for your cap.